Good for any sport, the 10 team double elimination bracket allows you to easily follow playoff or tournament play. Sometimes it's hard to keep up with double elimination tournaments, but this bracket is user-friendly.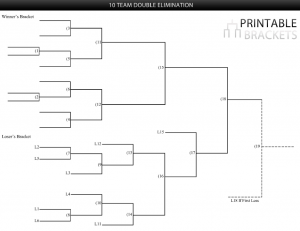 Using a 10 Team Double Elimination Bracket
With 10 team brackets, four teams will play in order to advance, with six teams waiting in the next round. All losers of this bracket go down to the losers bracket, where they must win to continue competing for the championship. Once a team loses twice, they're eliminated. The winner of the losers bracket plays the original bracket winner, but must win twice without losing to win-it-all.
Download: 10 Team Double Elimination Bracket