Using an 11 Team Double Elimination Bracket
Double elimination tournaments are exciting because teams get a second chance to compete for the championship. The 11 team double elimination bracket is useful for any sport to keep track of tournaments or even the playoffs that consists of 11 teams.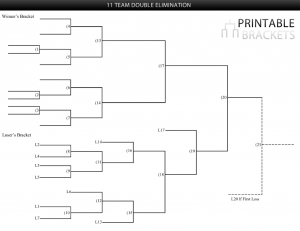 With the original bracket and a losers bracket, this helps map out where teams go when they win or lose, and how the final team can win it all. Play starts with five teams waiting in the second round, while six teams play for the three final spots of that second round. Last team without two losses is champion.
Download: 11 Team Double Elimination Bracket