Using a 13 Team Double Elimination Bracket
Wondering exactly how you'll keep up with a 13 team tournament? Look no further; this 13 team double elimination bracket will guide you through every step of a tournament or the playoffs without getting confused by double elimination play.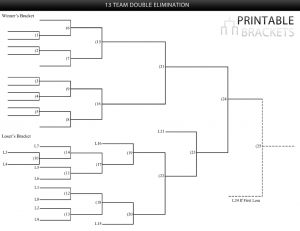 Three teams get byes for the first round, normally the three best teams during the season. Winners advance until there's one final team in this bracket. The losers play in a losers bracket, where they get a second chance to play in the finals. They must beat every team and the winner of the original bracket without losing to be champion.
Download: 13 Team Double Elimination Bracket