Using a 14 Team Double Elimination Bracket
For fans of any sport, the 14 team double elimination bracket helps keep up with everything that goes on in the playoffs or tournament play. It's easy to follow and guides you step-by-step through the elimination process.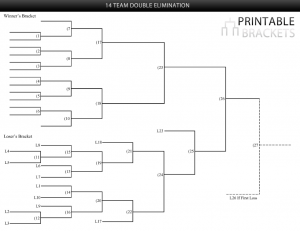 All teams start in the winners bracket, with normally the two top teams waiting to play in the second round. Losers must win-out to stay in the competition, while winners keep advancing. The eventual winners of both brackets will play each other, with the edge going to the team of the winners bracket, who needs to lose twice to be eliminated.
Download: 14 Team Double Elimination Bracket