Double elimination tournaments allow teams to have bad games, lose, but still compete for the title. The 16 team double elimination bracket will help you follow along exactly what's going on in tourney play, regardless of which sport you enjoy.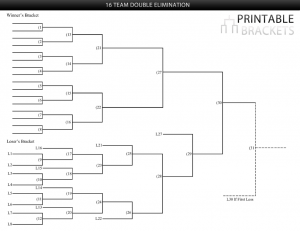 Using a 16 Team Double Elimination Bracket
With the double elimination bracket, you'll have two different brackets, the winners and losers. eight games are played in the first round of the winners bracket, with the winners advancing and the teams taking a lost going to the losers bracket. Once in the losers bracket, the next loss eliminates that team. Final team without two loses wins.
Download: 16 Team Double Elimination Bracket