Using a 20 Team Double Elimination Bracket
Twelve teams await the winners of the first four games in a 20 team double elimination bracket. It doesn't matter what sport you need brackets for, these are very easy to follow and understand in double elimination play.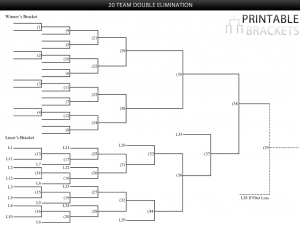 The winners bracket will continue to advance winners while sending losers to a separate bracket. In this (losers) bracket, teams have to win or go home. They still have a shot to win it all, just don't lose another game. Once they make it to the finals, they have to beat their opponent twice in order to win and be tournament champion.
Download: 20 Team Double Elimination Bracket