Using a 23 Team Double Elimination Bracket
If you need help with following along with playoff or tournament play, you came to the right place. A 23 team double elimination bracket keeps track of all 23 teams easily, allowing you to focus on the excitement of the games!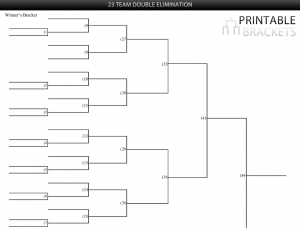 The nine teams with the best records at the end of the regular season will be able to skip the first round. Fourteen teams will have to play, with the winners being able to meet them in the second round. All teams keep playing until they receive two losses. The champion will be the team remaining without two losses.
Download: 23 Team Double Elimination Bracket