The single elimination bracket sport pages are great for setting up ways in which a person's team could win. They show the progression the whole way through the season and make it easy for changes to be made along the way.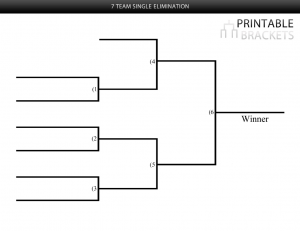 7 Team Single Elimination Bracket
These bracket charts can be used for many sports. The printable 7 team single elimination bracket comes in several different sizes for many types of rooms or places to be used. A person simply just needs 7 teams to include on this bracket chart to get started. Once the teams are entered on the chart they link together with the brackets from one to seven.
Download: 7 Team Single Elimination Bracket