The World Baseball Classic is an international tournament that currently takes place every four years. Professional players from around the world are permitted to suit up for their respective countries. Opening round play in the 2013 World Baseball Classic will begin on March 2nd.
First round sites include Chase Field and Salt River Fields at Talking Stick in Phoenix, Arizona, Hiram Bithorn Stadium in San Juan Puerto Rico, Intercontinental Baseball Stadium in Taiwan, and Fukuoka Yahoo! Japan Dome in Japan. The championship round will be held March 17th-19th at AT&T Park in San Francisco, California.
World Baseball Classic History
The inaugural WBC took place in 2006 and stars such as Derek Jeter, Ken Griffey Jr. Albert Pujols and Pedro Martinez all competed for their respective countries. In '06, Japan, South Korea, Cuba and the Dominican Republic all advanced to the championship round. In the WBC championship game, Japan knocked off Cuba, 10-6.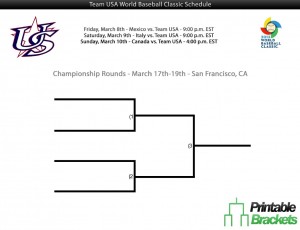 In the second WBC in 2009, Japan defeated South Korea in 10 innings, 5-3, to win the championship for the second straight time. Pitcher Daisuke Matsuzaka was named the Most Valuable Player in each of the first two tournaments.
WBC Format
The current WBC format includes 16 teams that are broken up into four different pools. The four teams in each pool will square off in "round robin" play over a three-day stretch. Two teams from each pool will advance to the second round, which employs a modified double-elimination tournament system. Four teams will emerge from the second round and meet in the championship round. The championship game will be on March 19th.
WBC: Team USA
The United States has not finished better than fourth in the previous two tournaments. The Americans have posted a 7-7 record in their 14 all-time WBC games. The 2013 U.S. team features reigning Cy Young Award winner R.A. Dickey, former MVP award winners Joe Mauer, Jimmy Rollins and Ryan Braun, and young stars Adam Jones, Giancarlo Stanton, Kris Medlen and David Wright. The club will be managed by former Yankee skipper Joe Torre.
Download: WBC Bracket and Schedule