If you enjoy baseball, the NCAA baseball bracket is a tournament that you cannot miss. Also known as the College World Series, the NCAA baseball bracket is a multi-formatted tournament made up of 64 teams.
NCAA Baseball Bracket Participants
A total of 64 NCAA baseball teams qualify for the tournament. Of these 64 teams, 28 are conference champions that acquire automatic berths and 36 teams that acquire "at-large" berths. A special selection committee of university administrators and coaches select the "at-large" berths in the NCAA baseball bracket by interpreting data available from the regular season.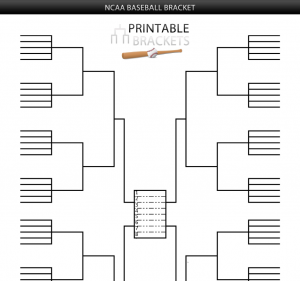 Building the NCAA Baseball Bracket
Prior to the teams being selected for the tournament, universities of higher ranked teams send the NCAA an application to host the regional tournaments (first round). Of the applications received, 16 teams will be selected to host a regional tournament. The selection committee then takes the remaining 48 teams and places them in a regional bracket by considering factors such as rank, record, and locality to a hosting university. By the end of the bracket selection there will be 4 teams at each of the 16 regional sites.
Format of the Tournament
The Regionals or first round of the NCAA baseball bracket is played in a double-elimination format. These games pair the seeds 1v4 and 2v3 together. After the first set of games, the winners advance to play each other and losers play each other thus eliminating one team. This continues until there is one team remaining in each regional.
The Super Regionals or second round is a best-of-three series that matches up the 16 Regional winners into eight series. After this round is completed, eight teams will remain and head to Omaha for the College World Series.
The College World Series in Omaha is a double-elimination bracket played with eight teams. The format remains the same as the Regional format until there are two teams left in the NCAA baseball bracket. These final two teams will then play a best-of-three series for the national championship.
Download: NCAA Baseball Bracket