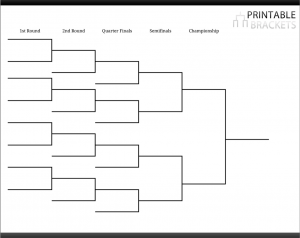 Printable pool tournament brackets are perfect for creating pools with your friends or co-workers. Any sport and any team can be placed on these easy-to-use pool tournament brackets. You can also reserve space for the names of your competitors. It's important to note that the information listed below is for entertainment purposes only.
Pool Tournament Brackets for the College Hoops Tournament
When anyone thinks about pool tournament brackets, the NCAA men's college basketball tournament in March is usually the first thing that comes to mind. Millions of Americans of both sexes and all backgrounds get swept up "March Madness." For one month each year, the eyes of the nation are fixated on college hoops.
Offices around the country use pool tournament brackets to create a friendly competition inside the workplace. Once the field of 68 is set, people furiously begin to make their selections. From the opening round to the national championship bout, a total of 67 games are played.
As a result of pool brackets, a game you normally wouldn't care about becomes critically important to your chances of being the top dog in the office. Though some brackets end up in the trash at the end of the first weekend of the tournament, they are still a perfect way to track all your picks and favorite teams during the "madness."
Other Uses for Pool Tournament Brackets
The college hoops tournament isn't the only use for pool brackets. Shortly after the college tournament ends, the NBA playoffs begin. The professional basketball tournament consists of 16 teams vying for the Larry O'Brien trophy. Blank brackets can easily be used to create an NBA playoff pool.
The Stanley Cup playoffs in the NHL also take place in the spring. The field is also comprised of 16 teams, which each fighting for the right to hoist Lord Stanley's Cup. In the fall, the MLB playoffs get underway. The 12 teams that advance to the NFL playoffs in the winter can also be placed in a tournament bracket.
Download: Pool-Tournament-Bracket